Check out our September Update
So much is happening at Nurture KC! Access our September Update to learn:
Immunization Symposium preview from Tracy Russell, Executive Director, Nurture KC
How nurses, social workers and community health workers can earn continuing-education credits through the Immunization Symposium
Why the documentary Belly of the Beast matters to women incarcerated women in our community (see key take-aways from our screening and discussion)
Where our flu and COVID-19 vaccine clinics are taking place in KS and MO (access the final schedule + an appointment scheduling option)
What makes our Community Health Workers so special
Who has joined our organization this month, including three key partners who renewed memberships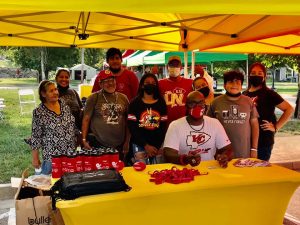 THANK YOU to Will Shields, hall-of-famer and former star of the Chiefs, for signing autographs for everyone who got their flu and COVID-19 vaccines at our clinic held at the Salvation Army of Olathe. We appreciate our partners El Centro, Walgreens and Aetna for this event.