Highlights – COVID-19 vaccines roll out
Distribution of COVID-19 vaccines is one of the most ambitious immunization campaigns ever conducted in the United States. Vaccine maker Moderna appears poised to win authorization for its COVID-19 vaccine just days after Pfizer-BioNTech did the same.
On Dec. 14, Sandra Lindsay, an intensive care nurse in New York, became the first American to get vaccinated in a non-trial setting when she got her first of two Pfizer shots. (Both the Pfizer and Moderna vaccines are two-dose immunizations.) Pfizer vaccines rolled out across the country this week – enough to vaccinate 2.9 million people, reports NPR. Health-care workers and residents at long-term-care facilities are the first in line to receive the vaccine. Looking ahead, the vaccines are expected to reach large-scale public distribution in the spring of 2021, according to The New York Times.
A few data points to know:
Moderna's vaccine is 94% effective and has been approved for adults.
Pfizer's vaccine is 95% effective and has been approved for ages 16 and older.
The vaccines are not recommended for pregnant women as they were not included in the trials.
Leader Dr. Fauci says his biggest concern is vaccine hesitancy. This hesitancy may come from the vaccines being developed so quickly and affects all races, but particularly Black Americans. Here's why.
USA Today reports: "There are no major differences in safety or effectiveness identified between these first two vaccines, although the two Moderna vaccine doses should be given 28 days apart, while Pfizer-BioNTech's second shot should be given after 21 days. Both rely on a technology called mRNA to make a bit of protein from the virus that causes COVID-19, training the immune system to attack it."
This mRNA approach had never been used outside of clinical experiments, and just how well it worked against the coronavirus "stunned even some of its most enthusiastic backers," says Bloomberg News. This mRNA technology could one day defeat other ailments that have eluded doctors, from cancer to heart disease. Below is a closer look at how it works ..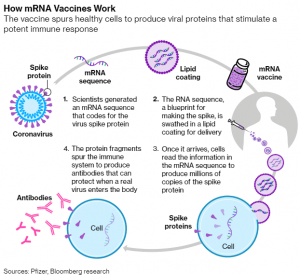 These timely articles, from trusted news outlets, give an excellent overview of where we are at with the COVID-19 vaccination process:
Effectiveness and safety of Moderna COVID vaccine confirmed – USA Today
CDC panel recommends Pfizer vaccine for people 16 years and older – CNBC
First Covid Vaccines' Triumph Raises Hope for Cancer Fight – Bloomberg News
What We Know About the U.S. COVID-19 Vaccine Distribution Plan – INTELLIGENCER
Why a Covid-19 vaccine doesn't mean that you can stop wearing a mask – CNN
Vaccine Is Highly Protective – The New York Times
Millions More COVID-19 Vaccine Doses Are On The Way – NPR
Why is Nurture KC running this COVID-19 vaccine overview? It was compiled for members of our Mid America Immunization Coalition (MAIC), a program of Nurture KC. We believe this is timely, relevant information for the general public as well — a vaccine overview sourcing trusted and vetted media outlets.