Support Nurture KC on Giving Tuesday
Today, on Giving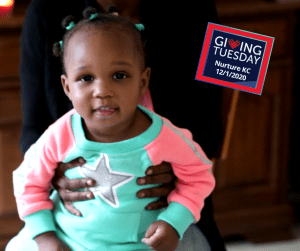 Tuesday, Nurture KC is asking for the community's help to rally around our Giving Tuesday 2020 effort and, in turn, the vulnerable families we support through our Healthy Start program. These families have been hit disproportionally hard by COVID-19, as many lost their jobs in the hospitality industry as waiters, cooks, hotel maintenance workers and more.
"Every dollar we raise today stays in KC to help our local families. Every single donation matters and directly helps our moms and babies, who are struggling right now," says Tracy Russell, Executive Director of Nurture KC. "We have been supporting our families with services throughout the pandemic, such as providing some food and diapers, but it's just not enough."
Anyone can give at www.nurturekc.org/givingtuesday2020 and donations are tax-deductible.
Giving Tuesday is a global generosity movement, unleashing the power of people and organizations to transform their communities and the world. Giving Tuesday was created in 2012 as a simple idea: A day that encourages people to do good. Over the past eight years, this idea has grown into a year-round global movement that inspires hundreds of millions of people to give, collaborate, and celebrate generosity.